NEW RELEASE ~ CAGING THE BENGAL TIGER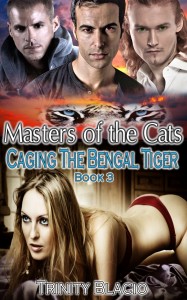 Buy it today from:
In the third book of best-selling ménage author Trinity Blacio's Masters of the Cats series, Bengal tiger shifter Lacey must deal with the life changes that have happened in her female clan as they are wooed by an alien race of alpha shifters and pursued by an even deadlier race of shifter demons.
Three months ago all of their lives changed. Lacey hasn't decided whether or not it was for the good. Could her life actually change for the better? Was it possible that the three males who kept following her around were truly hers? Could she really trust them? Was this true love? Or were they trying to cage the tiger seeking revenge?
Isaac Featherstone, Dan Edwards and Anthony Jefferson will fight anyone who harms their woman, including family. Isaac knows they need to collar their Lady Cat, but with betrayal still fresh on all their minds, is she going to trust them with her love? Were they ready to take up the mantel of leadership?
Surrounded by enemies all around them, Isaac, Dan, and Anthony try to protect Lacey the only way they know, showing her that they were not going anywhere. They were there to stay, and her men would not let her down like so many others had. They would prove their love by showing her that she could trust them no matter what is thrown their way.
NEW RELEASE ~ RED SATIN LIPS
Buy it today from:
Six months into her marriage, Tamara Evans-Cooper knew there would be threats on her life because she was a human married to a vampire and a werewolf. But she didn't count on innocent people being murdered, bombs going off around her and the male line of Lars' family hating her. With her belongings gone and her mother executed, Tamara is barely holding it together as she searches for those responsible.
Gage Evans and Lars Cooper love their new wife, but trying to keep up with her is a full-time job. Not only do some of Lars' family disapprove of this woman, there was now a threat against her and his Grandfather.
With death knocking on their doors, Lars, Gage and Tamara flee to Gage's wolfpack family home, the one place she is safe for now. But for how long?
And if that wasn't enough they all have to throw the ancient Blood Ball on Valentine's Day to satisfy the Prince of hell and his new Spider-consort or no one will survive until the next day.