Coming Soon New Series!
Grandmas Need Loving Too!
Book One: Nana's Biker Friend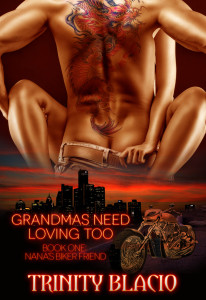 Sierra Blacksmith is a woman of many passions and unrealized potential. Being the youngest daughter of a werewolf and a Fey is not always easy, not to mention the fact that her father is clan leader. Sierra longs for a normal life. Just when she thinks things can't get any worse, she discovers her boyfriend is a two-timing Troll! He was a troll, their families' enemy, who would go to any lengths to get between her virgin thighs. But, no that wasn't enough. In walk two men claiming to be her mates, Roman and Garth Doming. They not only dominated both her thoughts and desires, but also introduce her to her third mate, a half demon and half fey.
Book 3 in the Virgin Witch Series
Training A Wife
Beth had hoped with her marriage things would settle down, but boy was she wrong. Death, betrayal seemed to be right behind them at each turn they made. The only thing Beth knew was to stay close to her men and trust no one. Beth had always been taught to believe in the future and hope for the best, but how can she be the wife and mother she craved to be if this sick psycho seemed to know every move she made? How could Beth trust her own judgment when twice now her best friends have turned out to be her enemies?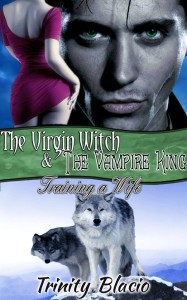 Two Kings, two alpha shifters should be able to keep their woman safe, but instead people they had trusted with her life had betrayed them time and time again. The only thing left for them to do was to leave her home, planet and life their queen had ever known. Together the five of them start all over. One step at a time. Ruling from a far, trusting only a select few, Edward, Lucas, Dred and Rock begin once more to set out to prove they are far more capable of keeping her safe. That it was okay to love and trust again all the while seeking the asshole who was bound to take the light of their life, their wife, their soul, Beth.

Blurb:
Struggling single mother Laura McGill figures she has nothing to lose and everything to gain when she impulsively signs up online to meet a sugar daddy. After losing her virginity to a two-timing married man, she's out to find security for herself and her infant son Max—and hopefully a man she can love.
Brothers Daniel and Grant Wilmot are handsome and rich—and seeking a Rubenesque beauty whose lush curves will cushion their hard loving. Leaders of a security team comprised of former Special Forces operatives and a dating website that serves as a cover for their military activities, Daniel and Grant are smitten by Laura's generous proportions and sweet manner.
But before the relationship can get too far, a secret government project goes awry—and the Wilmot brothers are forced to pick up the pieces. Can they make it back to the woman they love—or will she reject them when she learns the truth of the secret they carry?
Inside Scoop: Are the sexy brothers Laura falls for completely human? She'll find out during an oral session that begins with dubious consent and ends with multiple orgasms.
A Romantica® contemporary Rubenesque ménage erotic romance from Ellora's Cave
AVAILABLE NOW! ~ EMBRACING THE WINDS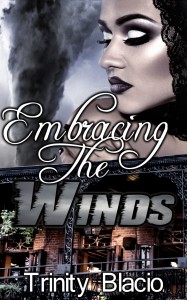 Buy it today from:
New Orleans is the City of the Dead, home to witches and everything that goes boo in the night, but it is also Luna's home. Even though the young, virgin witch is being pursued by an evil cult who wants her powers, Luna refuses to leave or hide from those fanatics any longer. They had murdered her mother. She will face those who have hounded her for most of her life alone. At least that's what Luna had thought, but the fates once more stepped in and sent her own personal guards, the Gods of the Winds.
Aeolus Jr., son of one of the most powerful Gods, can't believe his father has sent him to Earth to protect a human. Here he is, a God and the oldest of the five brothers.  He shouldn't even be on this planet. But as soon as he set eyes on the woman, Aeolus knew Luna was meant for him.
Yet as they come together to fight this threat, Aeolus is not the only one meant for Luna. With the five brothers vowing to protect this woman, they seek the people behind the threat. But will the brothers believe Luna when she finds out its their own cousin that wants her dead? Will they be able to protect her from their own?
NEW RELEASE ~ CAGING THE BENGAL TIGER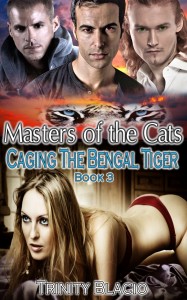 Buy it today from:
In the third book of best-selling ménage author Trinity Blacio's Masters of the Cats series, Bengal tiger shifter Lacey must deal with the life changes that have happened in her female clan as they are wooed by an alien race of alpha shifters and pursued by an even deadlier race of shifter demons.
Three months ago all of their lives changed. Lacey hasn't decided whether or not it was for the good. Could her life actually change for the better? Was it possible that the three males who kept following her around were truly hers? Could she really trust them? Was this true love? Or were they trying to cage the tiger seeking revenge?
Isaac Featherstone, Dan Edwards and Anthony Jefferson will fight anyone who harms their woman, including family. Isaac knows they need to collar their Lady Cat, but with betrayal still fresh on all their minds, is she going to trust them with her love? Were they ready to take up the mantel of leadership?
Surrounded by enemies all around them, Isaac, Dan, and Anthony try to protect Lacey the only way they know, showing her that they were not going anywhere. They were there to stay, and her men would not let her down like so many others had. They would prove their love by showing her that she could trust them no matter what is thrown their way.