New! Cupids Baker Dozen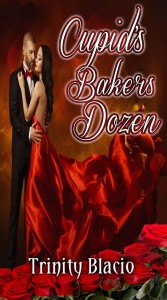 Amazon
Cupid, or Eros as his friends called him, couldn't believe what the fates were having him do. A week before Valentine's Day, getting twelve of the hardest cases in the world, his personal friends and the women that they were paired, together with was going to take creative ideas.
Oh, he would do it. They wouldn't know what hit them by the time he finished with them. Their love lives were going to get really hot.
But little did Eros know the fates had added a thirteenth name, and it was his.
New! Stepbrothers Series: Her Stepbrothers Are Dragons
Buy it today from:
Holly Brewner knew she had a problem with Christmas Eve, but she thought her way of celebrating was better anyway. Twelve days of gifts and on Christmas Day, the big one. Her father and she had celebrated every year like this, but this year was going to be different.
This year she had a new stepmom and two stepbrothers, who happened to be dragons, and that changed all her plans.
Upon their arrival, her house burned down, she was shot at, and now she was staying in a cave for two days as if that were normal. On top of that, her two stepbrothers, Darius and Malcolm Longfellow, were claiming they were her mates and that they were going to marry her on Christmas Eve.
New! Stepbrothers Series: Her Stepbrothers Are Blood Suckers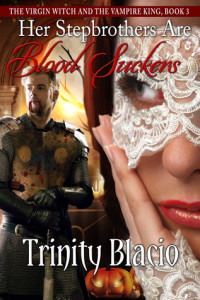 Buy it today from:
Elisa Martin was overweight, geeky and to top it all off, she was secretly madly in love with her stepbrothers ¬– wasn't she the picture of a winner?
After her mother married and was turned into a creature of the night that she'd always fantasied about, Elisa packed her bags and moved to Cleveland, Ohio needing to find out all she could about their race. What she wasn't expecting was that her stepbrothers would follow a year later. They now claimed that she, and her boss, were their mates, but that's not all. The leader of this new family unit that was forming around her was none other than Lancelot, the one and only knight from long ago.
But that's not all. There's a surprise Halloween wedding, that turns out to be her's and the guest list includes the king's family. And, with all things royal, there's always the threat of violence all around them as Elisa is not too sure she has what it takes to be their woman.
New! Stepbrothers Series: Her Stepbrothers Are Demons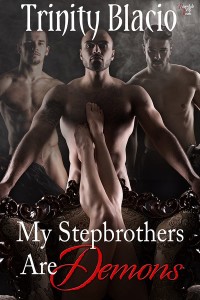 Buy it today from:
Alex Cander had her life all planned out – mom married off, check. Police academy graduation (all done in secret) – double check. Assigned to one of the biggest cases in her county – triple check.
Yet Alex knew this smooth ride couldn't last long.
Sure enough all hell breaks loose, literally, when her stepfather asks her to help his sons get acquainted to their surroundings. Not only were her supposed stepbrothers claiming her as theirs, but it turns out they are demons.  On top of this, she learns that her own grandparents weren't even human?
And that's no even the half of it!
A being called Darkness has stepped forward claiming her as well. Now she is mated to three demons that not only control her every movement, but also her heart…someone pinch her please.