WELCOME!
AVAILABLE NOW! ~ MASTERS OF THE CATS: DEE'S HARD LIMITS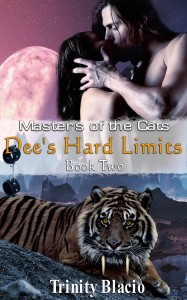 Buy it today from:
This is the second book in the Masters of the Cats series.
For over a hundred years, Dee Sabor has been fending for herself. Every time her mother was around, Dee saw the pain in her eyes. She was born from violence, her father a killer, rapist and literally the bogeyman of her nightmares. All Dee wanted was someone strong enough to love and protect her the way she craved, but could she keep them hidden from her father?
Talhrn was the oldest of his kind. He was put together like that of a robot, no mother or father. Parts of different species, melded together to create him. There were no memories of a loving childhood, just non-stop training, but all of that is going to change. With his weru's, Todd and Marquis, at his side they would let nothing stop them from claiming their Little Kitten, Dee. She was everything they could want, strong, beautiful and in need of someone powerful enough to take her in hand. Now all they had to do was guard her from the monster that stalked her every move.
Together no one will stop them from becoming the kith they all want, not even his meru's hidden sexual desires. It would take all three men to push their kitten to her hard limits, but they were well prepared for the task at hand.