Just released and now best seller at All Romance Ebooks! Her Stepbrothers' Demands
Her Stepbrothers' Demands by Trinity Blacio – Romance>Multiple Partners
When her mother agrees to be transformed into a werewolf to join her mate, Jasmine feels abandoned and alone, and does the only thing she can do; she tries to leave.
The fact that the man she had considered her real father' isn't human, but an actual werewolf, just proved that there were other beings, not human, in this world. It made her remember that her real father (who had abused her as a child), had given her to the Nightmare Man that one night (a secret she had kept hidden from all, until now).
But now that she learns that in addition to having a werewolf for a mother, she has two were-cowboy stepbrothers (who are too hot to handle), it's almost too much to take. They were the dark cowboys of her dreams as a teenager….. Can she give in to her were-cowboy stepbrothers' demands?
Riverdale Ave Books: http://riverdaleavebooks.com/books/5206/her-stepbrothers-demands
Kobo: https://store.kobobooks.com/en-US/ebook/her-stepbrothers-demands
All Romance ebooks: https://www.allromanceebooks.com/product-herstepbrothersrsquodemands-1842298-340.html
Bookstrand:
http://www.bookstrand.com/her-stepbrothers%E2%80%99-demands
Amazon: http://www.amazon.com/Her-Stepbrothers-Demands-Trinity-Blacio-ebook/dp/B010RD29CQ/ref=sr_1_5?s=books&ie=UTF8&qid=1435785178&sr=1-5&keywords=Her+Stepbrothers+Demands
Barnes & Noble: http://www.barnesandnoble.com/w/her-stepbrothers-demands-trinity-blacio/1122232704?ean=2940151082303#productInfoTabs
New! The Sugar Daddies Series: Secrets Unwrapped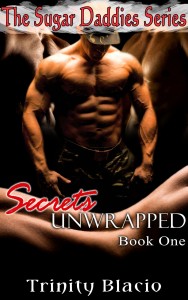 Buy it today from:
Alex Martin's world is changing at an alarming pace. She had arrived at the Wilmot's mountain compound with her best friend Laura just as all hell has broken loose. A dozen or so blasts set off by a terrorist group had hit most of the major cities in the US. Their compound was also attacked, so they all moved to the fortified tunnels beneath the buildings.
The Wilmot brothers – Grant, Daniel and Roman – were Laura's men, former military personnel, as were most of their companions. They were all survivors of a secret government experiment performed on them when they were children. Over the years, they had found others who had been victims of the 'camp' where those experiments had taken place involving alien DNA. Recently they were visited by those aliens, and learned that they weren't the only group that had been experimented upon.
The President of the United States had tasked their compound to keep order and protect those in the nearby city until they were needed. They were also a magnet for the victims of similar experiments. And the terrorists considered them all a threat.
Surrounded by these military men, Alex couldn't help but fall for the three assigned to protect her. But could these men help heal the wounds in Alex's heart, barely held together by Band-Aids?
Ordered to pick up and guard their commander's woman's best friend, Bo, Rafe and Justin were not prepared to face the black bombshell that was Alex Martin. Ever since that first night on her porch, their three lives had changed.
Alex was theirs now. All they had to do was convince her to allow them into her heart. Beneath all that tough veneer, they had a Baby Girl who needed their special loving. With new threats popping up every hour, Bo, Rafe and Justin were bound to make a home for Alex.
New! The Fantasy Alive Series: Possession of the Soul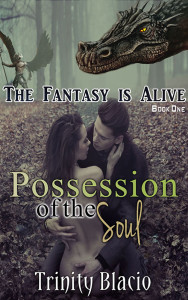 Buy it today from:
Can one woman handle a foursome made up of an Anasazi god, a demon and an alpha werewolf as lovers?
Ever since Tabatha's family was murdered, she's always faced things head-on, but now those killers and their allies are trying to kill her, too.
As the foursome works to solve the mystery of Tabatha's special purpose, Wol-itelm, Chax and Hoyt must battle the enemy when it strikes their home. Snakes, wayward demons, and opposing were-clans attack Tabatha every chance they get. All three of Tabatha's mates must come together to fight these enemies to save the woman they love.
Can they save her, and can they also tame their wild female both in bed and out of it?
Author review from Elle Boon:
Trinity Blacio has created a whole new series that I couldn't put down. Tabatha, Wol-itelm, Chax, and Hoyt had me turning the page into the wee hours of the morning. This is the first in an all new paranormal world, although it is also a cliffhanger, a great start to a wonderful series and I didn't feel cheated. Tabatha is human who has lost her entire family in a terrible explosion that rocked her world. She's left with a group of supernaturals, but a deep seated mistrust for them as well, until she finds she is mated to not just one, but three uber alpha males. In this story there are many twists and turns, with each character so well fleshed out you can't help but fall in love with each of them. However, I have a soft spot for Wol-itelm, the only one who doesn't get to consummate his relationship with Tabatha. The entire book was so well written and described I could picture everything as if I was seeing it. Great job, Ms. Blacio. Now my only complaint is I need the next book…Now. By Author Elle Boon