New! The Journeyman's Way: The Stars For Valentine's Times Day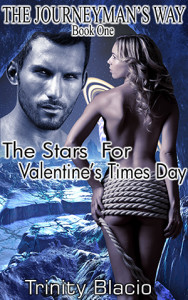 Buy it today from:
Shantel wanted a quiet Valentine's Week. Instead her life was invaded by monsters, vines that were alive and alien cops. Could she love three hot alien cops who offered her the stars.
New! Naughty List: Thirteen Naughty Holiday Stories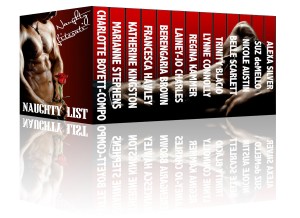 Buy it today from:
Featuring: 
CHRISTMAS BAD GIRL
Trinity Blaico
She only had one wish this Christmas. To find the one man who was strong enough to master her in bed and out.
Thirteen Naughty Holiday Stories from Amazon Bestselling Authors
THE NIGHTWIND'S VISIT
Charlotte Boyett-Compo
DEAR SANTA…I WANT A MAN FOR CHRISTMAS
Marianne Stephens
PRELUDE TO A MOST UNUSUAL MARRIAGE
Katherine Kingston
NO GENTLEMAN
Francesca Hawley
JEWEL'S MENAGE CHRISTMAS
Berengaria Brown
TUNE ME UP
Lainey-Jo Charles
ON THE EIGHTEENTH OF JANUARY, '78
OR, A NIGHT AT VALLEY FORGE
Regina Kammer
THE CHRISTMAS LEOPARD
Lynne Connolly
HOW THE ALIEN STOLE CHRISTMAS
Belle Scarlett
MERRY CHRISTMAS, KITTEN
Nicole Austin
VIKING IN TARTAN
Suz deMello
HOLDIN' ON
Alexa Silver
New! A Christmas Tail: Book Four of The Masters of The Cats Series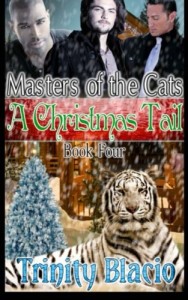 Buy it today from:
Always on the run and alone, Betsy Samuel never believed she would ever have a family, much less be mated. With scars covering her body and her heart, Betsy decides to trust the three warriors who seem to be working their way into her heart. But would they be able to accept all her hang-ups and the fact she has two other children out there somewhere? Would her Christmas be everything she dreamed of?
Barry Zorn had failed his weru once before and he wasn't about to fail his meru. The small woman, Lacey's little sister, had a wall of stone around her heart, but he and his werus were bound and determined to tear the wall down and surround her with love, even if it meant catching a tiger by her tail.
But could they give her the best gift possible, her missing children and the Christmas she's always dreamed of? London, a city of history, is the site of their bonding, but would it also be the birthplace of a new era for their large family and heal recent wounds for the women that have given their hearts to these worriers?