New Release! Burned Once, Twice…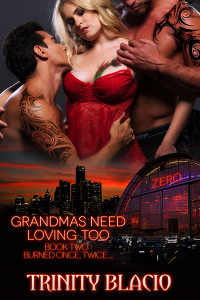 Buy it today from:
Two marriages, three children. Two who had been in her life, the other out there in the world by herself, alone. Faith Bliss knew loneness and she hoped and prayed her daughter had found a decent family to adopt her. Even at the age of sixteen, Faith's luck at love had sucked. As far as she was concerned, her life was over. She had protected her children as best she could, now all Faith could do was run and hide from the first husband who was bound to kill her. How is Faith supposed to deal with three men claiming her, loving her, and starting her life all over again?
The Nella, were hunters, dragons, and monsters all rolled into one. When brothers Gordon and Jake Nella came across Faith Bliss they knew she was the one meant to hold their heart, but what they didn't count on was the third man, Xfra, being their mate also. Then there was the new threat to their woman no one knew how to destroy.
The four of them face this new threat together, well, Gordon, Jake, and Xfra do, while protecting their woman and her children. Can they convince Faith to start life over again? Will Faith be able to handle their loving, their possession?
New Release! Happy MILF Day: Stories Celebrating Hot Moms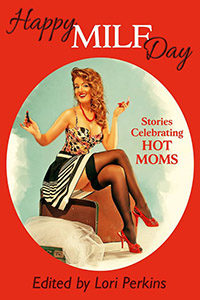 Buy it today from:
Hot moms are everywhere – in the grocery store, the local high school and even sitting on a park bench. All it takes is a little imagination to see them. A woman's sensuality changes as she matures and goes through the ebb and flow of youthful blossoming, middle aged knowledge and mature freedom. This book is a celebration of all the hot moms out there. And I also like to think that around every park bench, and grocery store aisle, there's a person of discerning taste who can really see how amazing you all are. Happy MILF Day!
New Release! Left My Heart In Sin City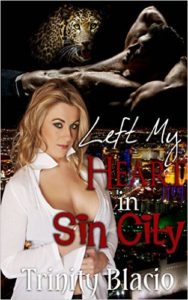 Buy it today from:
Jess Garthing, has been married for nineteen years, but it is a shell of a marriage. For one week, she is in Sin City for a conference. Little did Jess know she'd be leaving her heart and soul in Vegas.
Maverick Wetsal had all the women he could want, and a job that was great. Divorced with two kids, one night stands were all Maverick believed in, until he met her.
After Jess is insulted by the men under his command, Maverick tries to make amends to Jess. But in doing so, he his finds the perfect submissive for his wounded heart. She finds her soul mate, but they live in two different worlds.
Can you live Happily Ever After in Sin City?
New Release! Paranormal Stepbrothers Omnibus: Volume One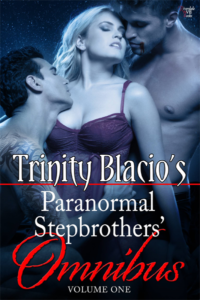 Buy it today from:
Multiple All Romance Ebook and Siren best-selling author
Bestselling erotic romance author Trinity Blacio is known for her paranormal menage, often featuring out-of-this world brothers and one very exceptional human woman as their soulmate. When this creative writer of shifter alien love triads discovered the burgeoning popularity of the stepbrother niche, she realized she had found her literary destiny.
Collected for the first time in one volume (and the first time in print), Trinity Blacio's Paranormal Stepbrothers Omnibus, Volume One, brings the reader Her Stepbrothers' Demands, Her Stepbrothers are Aliens and Her Stepbrothers are Demons in one delicious bundle of breathless joy.